RW-PLZ
Road Weigher
RW-PLZ is easy portable set of vehicle weighing scale that is usually used to weigh the road
vehicles. RW-PLZ consists of weighing platform scale and indicator, and both are designed
to endure rough environment.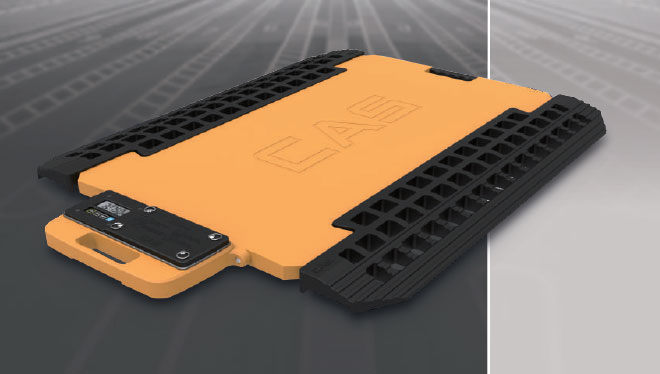 Waterproof Structure (IP67, CAPS Waterproofing upgraded)
LOADCELL : CPAS LOADCELL
INDICATOR(Built-in type) : MAIN PCB ASS'Y, BATTERY
Weighing-in-Motion (WIM)
- RW-PLZ has both static and dynamic weighing(Weighing in Motion) function.
- Via WIM function, users can conveniently measure a vehicle's weight.
- In case of WIM, dummy pads are required and accuracy is +/-3%
when vehicle speed is under 10km/h

RW-5002PL
Wireless Communication System
Users can measure a weight via wireless communication (Bluetooth) much easier and more comfortable than via a wire communication, and maintenance cost of wire will be reduced. Also, RW-5002PL indicator can be connected up to 12 RW-PLZ platforms simultaneously.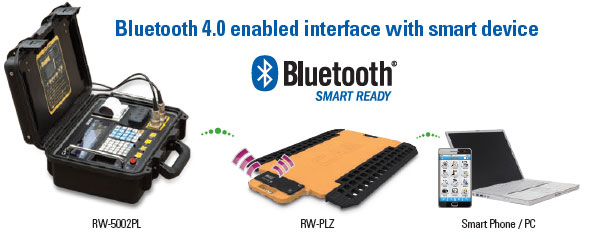 Built-in Thermal Printer
Built-in thermal printer enables to print out various contents such as company,
inspector, driver and weight data easily.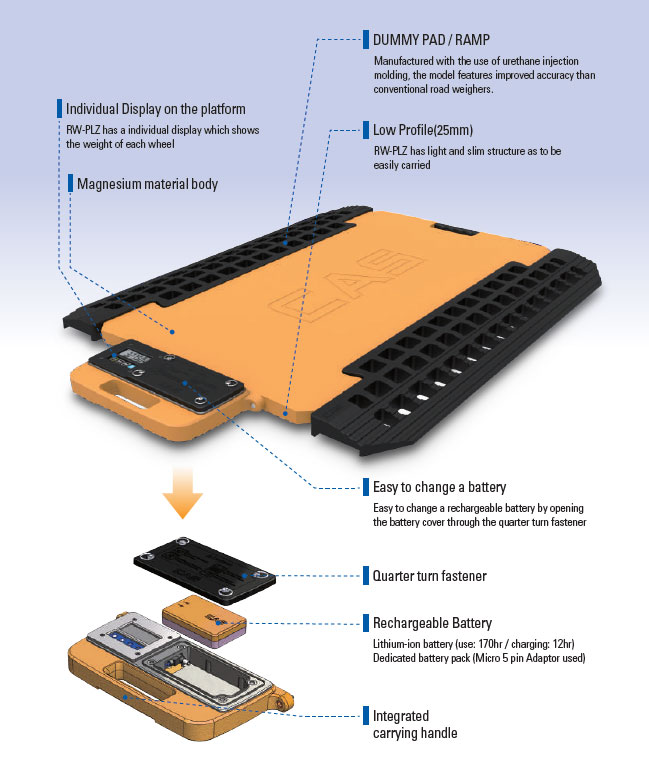 PAD
SPECIFICATIONS (BODY)
Platform Size (mm)
900x500x34
700x500x34
500x400x34
Body Weight (kg)
30kg or less
(incl. Display Module)
25kg or less
(incl. Display Module)
20kg or less
(incl. Ramp, Display Module)
CAPA(ton)
20, 15, 10
15, 10, 5
5, 2, 1
Division(kg)
20, 20, 10
20, 10, 5
5, 2, 1
Protection Class
IP67 or higher
SPECIFICATIONS (DISPLAY MODULE)
DISPLAY
5digit LCD (excl. "-"), 15mm high digits, backlight
KEY
On/OFF, Zero, Sum (kg/lb), Light
Protection Class
IP67 or higher
Communication Type
BLE
Communication Distance
100m or greater
A/D Conversion Speed
Static weighing: 10 times/sec,
Dynamic weighing: 100 times/sec
Battery Power
3.7V / 4Ah (Li-ion 9,000mAh)
Run Time / Charge Time
170 hrs / 12 hrs
Charging Type
Battery removable type
Content of Display
Refer to Sheet for detail of display
Main Functions
Set weight dependent speed (low speed ~ high speed)
Set auto calibration scope
Set dynamic or static weight (WIM) / WIM spec:
Accuracy +/- 3% in motion no less than 10 km/h
When WIM is enabled, displays SLOW or FAST depending on vehicle incoming speed
Option
A structure without display
INDICATOR
SPECIFICATIONS
| | |
| --- | --- |
| DISPLAY | GRAPHIC LCD WITH BACKLIGHT |
| Battery power | Use conventional RW-5002PL battery |
| Use time b/w charges | Up to 40 hours |
| Charging | 8 hours |
| Printer | Thermal |
| Communication type | BLE |
| Interconnect platforms up to | 12 pcs |
| Weight (kg) | 4.5 |
| Option | Cigar jack power |
| DATA communication type | RS-232C / USB (for data backup) |
| Memory | Large memory capacity of 10,000 or more data sets based on 6 truck axles |
| PC PROGRAM | Store/manage data thru USB or RS-232C |
| App | Check/save weights via interface with indicator or PAD |
| Certification | EMC certified locally |