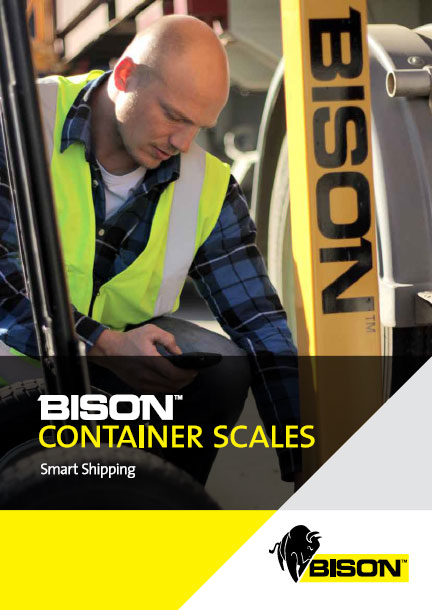 Simple, Efficient Container Weighing In Any Location
For shippers, forwarders and their logistics partners, new SOLAS VGM rules pose a serious compliance challenge. Incorrect weights and delayed container movements are a real risk to your shipping operation.
These challenges are aggravated by a lack of useful tools for weighing containers outside of terminals and weigh stations.
BISON container Scales solves these problem by enabling accurate container weight verification in any location.
With BISON Container Scales you can weigh containers on-site, simply and efficiently, and get the VGM to the shipping line at the earliest opportunity.
BISON Container Scales eliminate the need to weigh all cargo items; a process that can be inefficient and risks calculation errors. Now you don't need heavy, expensive handling equipment to weigh the container. And you can avoid the cost and delays that come with running containers to offsite weigh stations.
With BISON COntainer Scales, accuracy is assured through a combination of OIML certified load cells, electronic tilt compensation and the BISON App, which calculates the container weight for you. No manual keying of weights is required.
With the BISON App you can also verify the load distribution, capture photos, record other shipment details and send a signed VGM certificate direct from the weigh location.
Use BISON Container Scales to manage SOLAS VGM compliance, check the load distribution, avoid overloading and optimize container loads.



For weighing grounded containers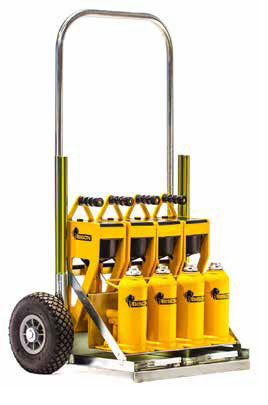 BISON C-Jacks are robust industrial scales for weighing grounded shipping containers of all types and sizes, up to 35,000kg.
To get an accurate VGM, simply attach the four scales to each corner, jack the container off the ground; then transmit the weight and load distribution direct to the BISON App. It takes less than five minutes for one person to attach, weigh and pack the scales away.
Portable, accurate and easy to use, BISON C-Jacks are ideal for remote logistics operations and sites handling low-to-medium container volumes at ground level.
Components:
4 x calibrated, wireless scales
4 x hydraulic bottle jacks
4 x steel ground plates
1 x custom trolley
1 x master display
BISON App
Specification
Unit of Measure:
kg or lb
Weighing Capacity:
35,000 kg (system), 10,000kg (per kg)
Display Increament:
50 kg
Approvals:
Pending. Contact us for latest details
IP Rating:
IP64
C-Legs Stands:
High strength steel frame. Tough glass-filled nylon casing.
Load Cells:
OIML R-60 certified. 10,000 kg weighing capacity per scale. 150% service overload capacity. 300% ultimate overload limit.
Controls:
Single button on/off and re-zero each scale
Data Transfer:
Bluetooth 4
Power:
4 x standard AA batteries per scale: 40+ hour life
Hydraulic Jacks:
10,000 kg lift capacity per jack
Weight:
11 kg per scale; 8 kg per jack. 5kg per ground plate



 For weighing containers on chassis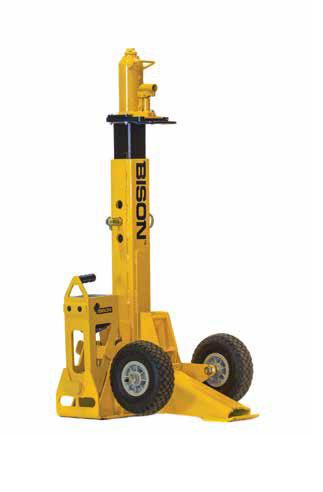 BISON C-Legs are sturdy, high spec scales for weighing containers on chassis.
Safe, fast and easy to set up, C-Legs are self contained and portable; enabling container weighing in any location.
To operate, simply attach the C-Legs to the container and jack in just clear of the chassis. The scales transmit the weight and load distribution direct to the BISON App.
Compatible with air and spring suspension chassis, BISON C-Legs offer you a smart, accurate and efficient system for VGM compliance.
Components:
4 x calibrated, wireless scales
4 x hydraulic bottle jacks
4 x custom stands
4 x wheel chocks
1 x master display
BISON App
Specification 
Unit of Measure:
kg or lb
Weighing Capacity:
35,000 kg (system), 10,000kg (per kg)
Display Increament:
50 kg
Approvals:
Pending. Contact us for latest details
IP Rating:
IP64
C-Legs Stands:
Height adjustable; Leveling mechanism for accurate weighing. Stabilizers ensure a safe and sturdy base for lifting. Wheels and kick bar for maneuverability. Welded steel fabrication.
Load Cells:
OIML R-60 certified. 10,000 kg weighing capacity per scale. 150% service overload capacity. 300% ultimate overload limit.
Controls:
Single button on/off and re-zero each scale
Data Transfer:
Bluetooth 4
Power:
4 x standard AA batteries per scale: 40+ hour life
Weight:
11 kg per scale; 75 kg per C-Leg



Smart VGM communication

| | | |
| --- | --- | --- |
|   | Starter | Standard |
|   | Free | Subscription |
| Receive weight from BISON Scales |  ✔ | ✔  |
| Method 1 VGM calculation |  ✔ | ✔  |
| Confirm weight distribution |  ✔ |  ✔ |
| Capture location, date & Time |  ✔ |  ✔ |
| Add optional shipment details |  ✔ |  ✔ |
| Email weight record in basic format |  ✔ |  ✔ |
| Access outbox of 40 weight records |  ✔ |  ✔ |
| Edit and re-send weight records |   |  ✔ |
| Email a signed VGM certificate |   |  ✔ |
| Add your logo to the VGM certificate |   |  ✔ |
| Add photos to the VGM certificate |   |  ✔ |
| Barcode & QR code scanner |   |  ✔ |
| Send CSV, XML and PDF files |   |  ✔ |
| Send date direct to server / URL |   |  ✔ |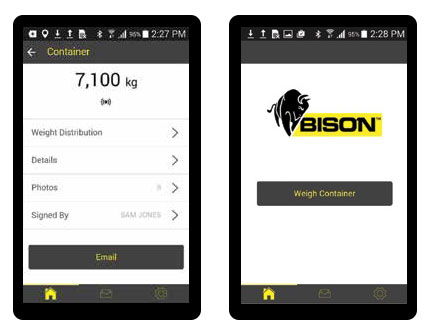 The Bison App is compatable with Android 4.4 smart devices with Bluetooth 4.0 or later