S.E.T.® - Model 120
High Capacity
Stainless Steel
Compression Load Cells
---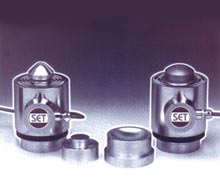 S.E.T.® Model 120 is an advance high capacity truck scale and silo load cell of low profile.
Complete with it's own unique rocker mounting.
Suitable for all heavy duty weighing applications that 120 gives the user high accuracy and low installation cost.
The 120 has a stainless steel housing to protect against corrosion. The alloy steel parts are nickel plated.
The two additional sense wires feed back the voltage reaching the load cell. Complete compensation of change in lead resistance due to emperature change and/or cable extension, is achieved by feeding this voltage into the appropiate electronics.
---
Capacities 10-50 tonnes (10,000-50,000kg)
Stainless steel finish
Surge arrestors fitted
Simple to install

 

0.02% total error
6 wire sense circuit
Output tolerance 0.1%