Aczet
Moisture
Analyzer
Balances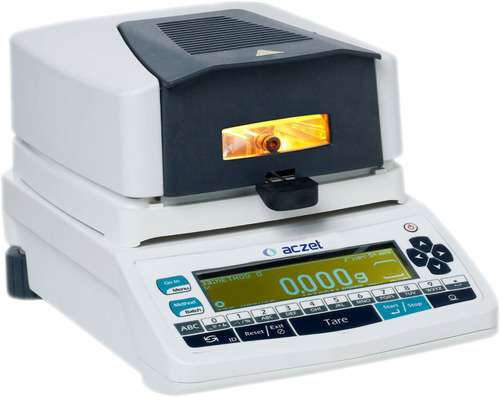 New MB Series Moisture Analyzer with HALOGEN Heating is mainly Designed on the basis of Time Saving Factory for universal use in Chemical. Pharmaceutical, Oil, Petroleum industries also in Material Testing & Environmental Laboratories & in Sewage Treatment Plants.
Standard Features:
Data memory up to 1000 data.
Data can divided in to 40 methods or 100 batchs.
User can avail statistic method or batch wise. . Facility or compile to method.
PS 2 key board connectivity moke it very user friendly operation.
Password protection prevent unauthorized use of the important setting.
4 User lD configurable.
ISO / GLP Calibration report for weight and temperature, also last successfully calibration report con be avail any time form the memory.
Programmable customize print format.
Alpha numeric keypad makes it easy to enter method name.
Weight in assist helps user to do accurate measurements.
Facility to add any insolvent before actual drying.
Possible to configure stand by temperature between 30°C to 100°c.
Highly flexible display for changing font, background and contrast.
User configurable print interval during the moisture determination.
Auto off, Auto keypad lock.
Model
MB 50
MB 120
MB 200
MB 54
Max Capacity
50
120g
200g
50g
Precision of readout mass
1mg
1mg
1mg
0.1mg
Precision of readout of moisture
0.001%
0.001%
0.001%
0.0001%
Repeatability  (Sample 2g) (sd)
0.05%
0.05%
0.05%
0.005%
Repeatability  (Sample 10g) (sd)
0.02%
0.02%
0.02%
0.015%
Pan Size (mm/inch)
94∅ / 3.8∅