Aczet
Standard
Weight
&
Weight
Sets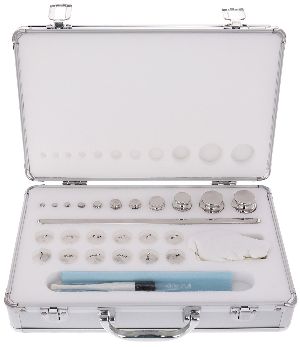 According to OIML-R111 standard
Outstanding Cost Performance Ratio.
Modern Calibration Methods Allow Exact Calibration and higher accuracy.
Calibrated by NPL / NABL / RRSL / DKD (Germany) / NVLAP / UKAS (UAS) Accredited.
E1 to M1 Class Weight with or without certification.
Material density of the weights is 8000kg / m3, air density is 1.2 kg / m3, and measuring temperature is 20°C.
A balance con never be more accurate then the test weight, used Nominal to adjust it, it depends on its tolerance.
Here's how to find the right test weight
Just determine the number of digits specified for your weighing instrument's resolution, then read off the particular accuracy class that your test weight must have on the graph provided below.
The weight value of your test weight should be more than 80% of the maximum capacity of your weighing instrument.
Example : Suppose your weighing instrument has a capacity of 2,200g and a Readability of 0.01g. this yields 220,000 digits, which correspond to a class E2 test weight. Since 80% of 2,200 g is 1,760g, you need to round to round it to a weight value of 2,000g.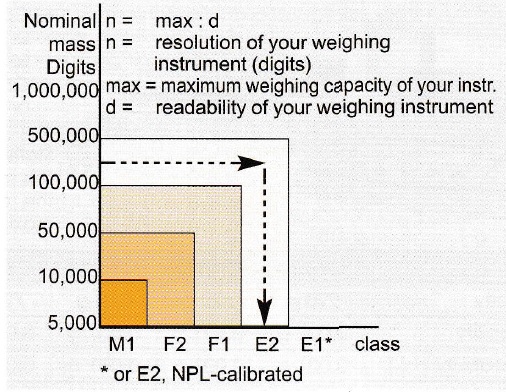 Single Weight
 Mass Weight 
Part No.   
 E2
F1 
F2 
1 g
 117-01
126-01
137-01
2 g
117-02
126-02
137-02
5 g
117-03
126-03
137-03
10 g
117-04
126-04
137-04
20 g
117-05
126-05
137-05
50 g
117-06
126-06
137-06
100 g
117-07
126-07
137-07
200 g
117-08
126-08
137-08
500 g
117-09
126-09
137-09
1 kg
117-11
126-11
137-11
2 kg
117-12
126-12
137-12
10 kg
117-14
126-14
137-14
Weight Sets
 Mass Weight 
Part No.   
 E2
F1 
F2 
1mg - 500mg
 118-22
123-01
138-22
1mg - 50gm
 118-02
123-02
138-02
1mg - 100gm
 118-03
123-03
138-03
1mg - 200gm
 118-04
123-04
138-04
1mg - 500gm
 118-05
123-05
138-05
1mg - 1kg
 118-06
123-06
138-06
1mg - 2kg
 118-07
123-07
138-07
1mg - 5kg
 118-08
123-08
138-08
1mg - 10kg
 118-09
123-09
138-09